Weekly Notices
Notices for Week 4 Term 1 2021 - starting Monday 22nd February
Current notices are listed below. Old notices from the last month (if any) are listed below them.
Roll Return Day - Monday 1 March 2021
Twice a year the Ministry of Education requires schools to complete
an official roll count of students enrolled at our school.
This is an important process as our future funding and staffing
is calculated on these numbers.
Monday 1st March is the next official roll count day.


If your child, or children are away on Monday 1st March,
please send a brief note or email, explaining their absence
(e.g. sickness, appointment, home circumstances etc.)
This is to assure the Ministry of Education that we have
the exact number of students that we say we have.
Board Of Trustees Meeting
Our next Board of Trustees Meeting for 2021 will be held on

Thursday 4th March at 7pm at the school.

(Please note date change)




All Welcome
We Are Swimming Everyday
Remember to bring ... your togs, swim cap (if needed), goggles and towel for swimming everyday this term, to ready themselves for our swimming sports.
If your child is not swimming for health reasons, a note is required each day.

Being Sun Smart at Korakonui
BUCKET HATS WITH THE RIM ARE COMPULSORY THROUGHOUT TERMS 1 & 4
With this current beautiful summer sunshine, students are required to wear a brimmed hat for school. Caps are no longer accepted.
These Korakonui hats are available for purchase at the school office for $8 and can be charged to your school account.
No hat equals spending your break time under the sun shelter.
Thank you to our Board of Trustees for subsidising our school green wide brimmed hats for our students.

Dates for your calendar
Week 4 - Notices due back to school this week
Monday 22 February - Oto Pools Swim Practice permission for Y3-8 students ~ Bus Code of Conduct ~ Yr 7&8 Imms permission
Week 5
Tuesday 2nd March - Netball pre-season training 4pm-6pm
Thursday 4th March - BOT Meeting 7pm
Week 6
Thursday 11th March - School swimming sports at Otorohanga Pools
Week 7
Thursday 19th March - Lower Waipa Swimming Competition
Week 9/10
Friday 2nd April - Good Friday - School closed
Monday 5th & Tuesday 6th April - Easter - School closed
Week 11
Monday 12th April - Friday 16th April - Wharepuhunga Camp
Friday 16th April - last day of Term 1
Juice Iceblocks For Sale Fridays
Ice Blocks for sale at morning tea on Fridays - $1 each
Korakonui Netball 2021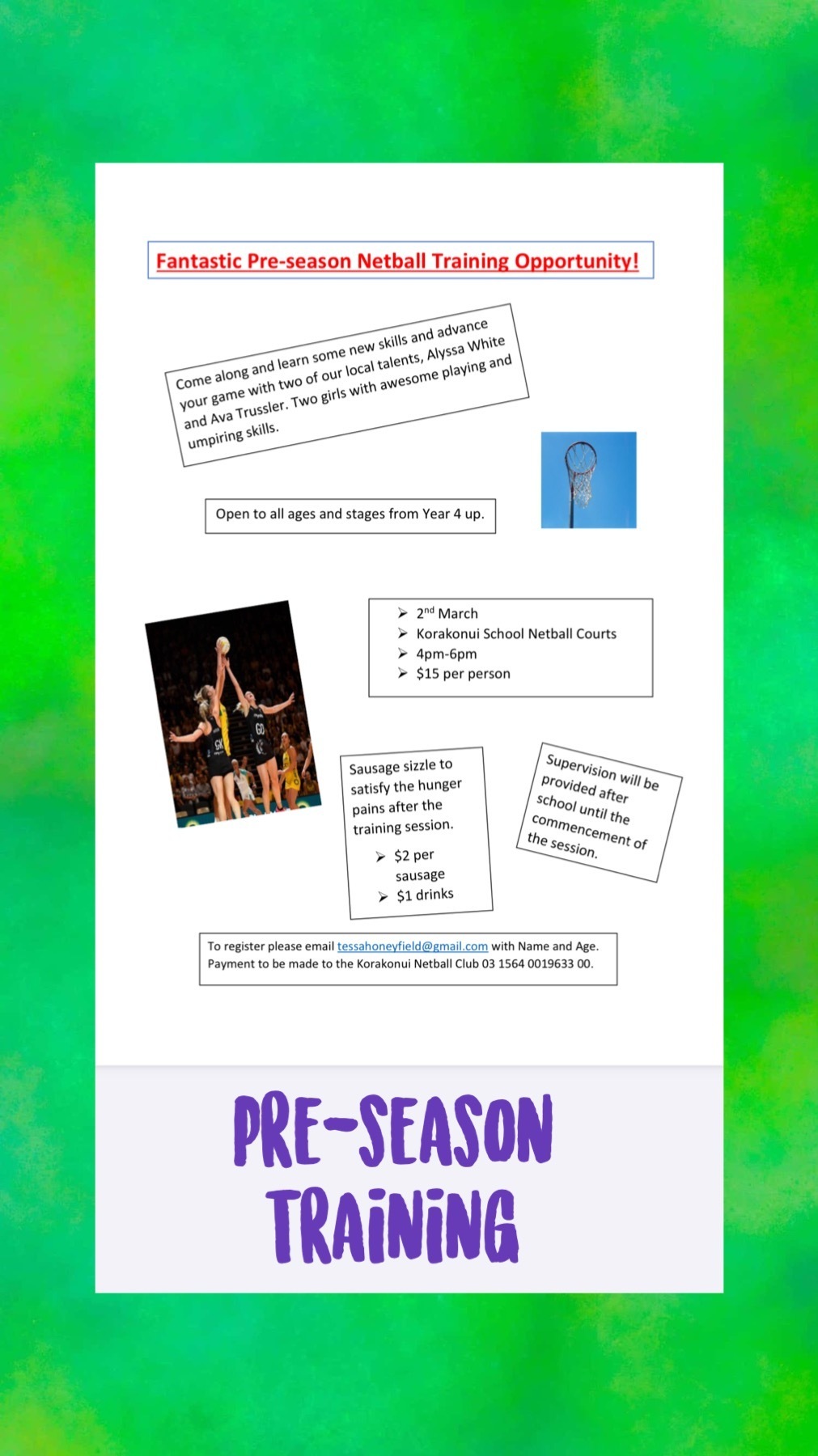 TA Sports 2021 Muster
Muster dates
(weigh-in): Thursday 25th Feb; Tuesday 2nd Mar; Thursday 4th Mar
Season dates:
6th/7th Grade Ripper - 13th May-10th July (Thursday evenings of Term 2)
8th-13th Grade Tackle - 8th May-28th August (Saturday mornings; excluding middle and final weekend of school holidays).
Term Dates 2021
Term 1 - Tuesday 2nd February - Friday 16 April
Term 2 - Monday 3rd May - Friday 9th July
Term 3 - Monday 26th July - Friday 1st October
Term 4 - Monday 18th October - Friday 17th December
Notices from the last month: