Weekly Notices
Notices for Week 7, Term 2
Current notices are listed below. Old notices from the last month (if any) are listed below them.
HERO App
School accounts have been sent out
And so easy to access using the Hero App
(click on the hamburger top left corner to view)

The benefits to using Hero for you:
* The Hero app is available to be downloaded from the app store. No need for email.
* School notices and communication will be accessed via community feed - push notifications will alert you to when there is a new message (if you choose to turn this on).
* Hero is designed to reduce the number of places that parents need to check for information about school.
* Parents have exactly the same login details and all accounts transfer from LINC-ED. Even if you visit the school's old LINC-ED site you will be redirected to Hero.
* Parents and caregivers can log in to their Hero app (even if they have students at multiple schools) and see all their learning stories; assessments; progress data; school notices; pay their school account online ... all through one app.
* There is a student app where teachers can post notices for their class or groups that your child is part of.
Hot Cross Bun Fundraiser
Order forms are on our website. Orders need to be back by Friday 29th May. Delivery date to be confirmed.
Thank you for supporting Korakonui School
Oxford Pie Fundraiser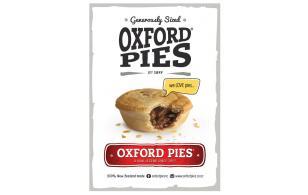 Korakonui School Term 2 Fundraiser
Oxford Pies are great to have on hand when you're late in from the farm and needing dinner in a jiffy. Just grab a family pie from the freezer and pop it in the oven!
Order forms are available to the wider community for purchase - forms can be found on our school website
June 1st Farming Change Over
We wish you well with your new farming ventures at this time of the year. If you are leaving the district at this time, or likewise, if you know of new families with primary school aged children moving into our school area, please make sure they contact the school office for an information and enrolment pack.
Kora Care - (After School Care)
Kora Care will be available daily from Monday 18th May
Hours 3pm - 6pm
Please phone or email the office to book.
(Enrolment forms available from the office or website)
Monday 25th May
We look forward to seeing you on Monday. If you have decided that your child/ren will not be returning at Level 2 - Please notify us of your decision. We thank those families that have already done so.
With the return to school at level 2 we have made some changes to school procedures:
Parents must be contactable
We need to be able to contact you at any time during the school day. If your contact details have changed please contact Faye office@korakonui.school.nz
If your child is sick, stay home
If your child is feeling unwell they must stay at home. We know there may be pressure to be back at work - but it is essential to the Health and Wellbeing of everyone on site, and in turn in their bubbles. If your child is sick they must stay home, and please notify us. We are even busier than normal with all the extra health and safety requirements. Please let us know if your child/ren will not be at school every day that they are not. Thank you for your help with this.
Named Water Bottles
All students will be required to bring a named drink bottle for water to school. There will be no drinking fountains available. Water bottles can be refilled at school.
No hugging
We understand that our students will be excited to see their friends and teachers. Can you please discuss the importance of staying out of other people's moist breath zone.
Drop off and pick up
If your only child is in Mangatutu Hub (Yr 1 & 2) your parking, drop off point and entry point is the bus shelter gate.
If your child is in Mangatutu Hub and has siblings your parking, drop off point and entry point is the gate by the multipurpose room.
If your child is in Ngahape (Yr 3 & 4), Wharepūhunga (Yr 5 & 6) or Bayley (Yr 7 & 8) your parking, drop off point and entry point is the gate by the multipurpose room.
If parents choose to enter school you must sign in and sign out at the tables provided at your entry gate.
A teacher will be on duty at each gate dispensing soap for each person that comes into the school.
NB: where caution tape is used these areas are closed for use!
Bus students
Please check your Hero post from Rochelle regarding the bus protocols - this has been sent out previously. All students entering the school from the buses will be greeted by a teacher who will be dispensing soap for hand washing. Covid 19 Level 2 Bus Info (Korakonui School)
School resources
If you have received any school resources over the lockdown these are required to be back at school on Monday eg. pencils, scissors, readers, laptops etc.
Term Dates 2020
Term 1 - Monday 3rd February - Thursday 9th April

Term 2 - Tuesday 28th April - Friday 3rd July
Term 3 - Monday 20th July - Friday 25th September
Term 4 - Monday 12th October - Friday 18th December
Notices from the last month: