Weekly Notices
Happenings at Korakonui School for Week 9, Term 2, 2016 (beginning Monday 27th June)
Current notices are listed below. Old notices from the last month (if any) are listed below them.
24 June 2016 - 1 July 2016
Fun Week At School ~ For Luka
24 June 2016 - 1 July 2016
Pita Pit Lunch Orders
We are all very excited to have Pita Pit providing us with student school lunches again for Term 2 - Our next lunch order will be this Friday, 1st July.
There are $4 and $5 lunches - which includes an Apple.
Order forms will go home with students on Monday 27th June.

Orders must be back to the school office by 3pm Thursday 30th June, correct money and order form in a sealed envelope please and posted in the 'Pita Pit' box in the office.
(NB: No change given - cash only to be enclosed in this envelope
online payments to the school not an option - order forms can be found on our website.)
24 June 2016 - 30 June 2016
4 Year Old Session This week
If you child has already turned 4 years old .... Please join Mrs Murray this week for her 4 year old session on Wednesday 29th June at 1.30pm in the Multi Purpose Room.

24 June 2016 - 1 July 2016
Lethbridge & Wharepuhunga Class Assembly
You are welcome to join us at 2pm in the Multi Purpose Room on Friday 1st July for Lethbridge and Wharepuhunga Class assembly.
24 June 2016 - 1 July 2016
Ministry Roll Return Day
Twice a year, the Ministry requires schools to complete an official roll count of students enrolled at our school. This is an important process as our future funding and staffing is calculated from these numbers.
Friday 1st July is our official roll count day.
If your child is away on this day, please send a brief written note explaining their absence (eg: sick, holiday, appointment etc)
This is to ensure the Ministry of Education, that we have the exact number of students we say we do.

24 June 2016 - 8 July 2016
Open Days at the Wharepuhunga Playcentre
WHAREPUHUNGA PLAYCENTRE OPEN DAYS
Tuesday 5 and Friday 8 July
,
9.30am - 12.00pm
New to the district, or just new to Playcentre?
Come along for a free, no obligation visit for lots of fun with your little one. Check out what we have to offer and enjoy a yummy morning tea!
Contact Jess on 07 871 1514 or Melissa on 07 872 2741 for more info.
Playcentre provides quality early childhood education from birth to school, recognising that parents are the first and best educators of their children.
24 June 2016 - 8 July 2016
Old Korakonui Rugby Jerseys For Sale
Jerseys $10 each - phone Stewart FitzGerald 021 1272033
10 May 2016 - 8 July 2016
Bring your $1 this Friday
Lemonade ice blocks will be sold at Friday lunchtime this week for $1 each at Room 7 Kitchen window
13 March 2016 - 8 July 2016
2016 Term Dates

2016 Term Dates:
Term 1 Tuesday 2nd February - Friday 15th April
Term 2 Monday 2 May - Friday 8 July
Term 3 Monday 25 July - Friday 23 September
Term 4 Monday 10 October - Friday 16 December
11 February 2016 - 11 December 2016
Korakonui School 2016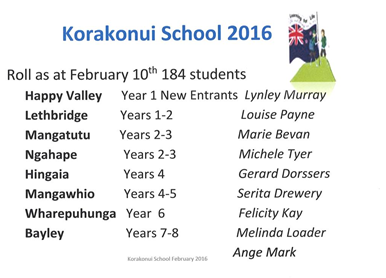 Notices from the last month: