Weekly Notices
Happenings at Korakonui School for Week 5, Term 2, 2016 (beginning Monday 30th May)
Current notices are listed below. Old notices from the last month (if any) are listed below them.
20 May 2016 - 2 June 2016
4 Year Old Session This week
If you child has already turned 4 years old .... Please join Mrs Murray this week for her 4 year old session on Wednesday 1st June at 1.30pm in the Multi Purpose Room.

29 April 2016 - 3 June 2016
BOT Elections
BOARD OF TRUSTEE ELECTIONS 2016
Voting forms are due into the school office by Friday 3rd June at 12noon
for three (3) parent representatives to the Board of Trustees.
Our election timeline is as follows:

5 May Call for nominations, posted
20 May Nominations close 12 noon
25 May Voting Forms posted out
(if required)
3 June Voting Closes 12 noon
9 June Count Votes
10 June New Board takes office
Faye Ashmore, Returning Officer
1 May 2016 - 8 July 2016
Kids For Kids Concert
Mrs Tyer will be taking singing for students interested in the Kids for Kids Concert. Practises will be held every
Wednesday
during lunch time this term in preparation for the concert which will be held on the
27th October 2016
.
10 May 2016 - 8 July 2016
Bring your $1 this Friday
Lemonade ice blocks will be sold at Friday lunchtime this week for $1 each at Room 7 Kitchen window
28 April 2016 - 3 June 2016
1st June Change Over
If you are leaving the district at this time, please contact the school office. Likewise, if you know of new families with primary school aged children moving into our school area, please make sure they contact the school office for an information and enrolment pack.
29 May 2016 - 7 June 2016
Queen's Birthday Weekend
School will be closed next Monday 6th June for Queen's Birthday weekend.
13 March 2016 - 8 July 2016
2016 Term Dates

2016 Term Dates:
Term 1 Tuesday 2nd February - Friday 15th April
Term 2 Monday 2 May - Friday 8 July
Term 3 Monday 25 July - Friday 23 September
Term 4 Monday 10 October - Friday 16 December
11 February 2016 - 11 December 2016
Korakonui School 2016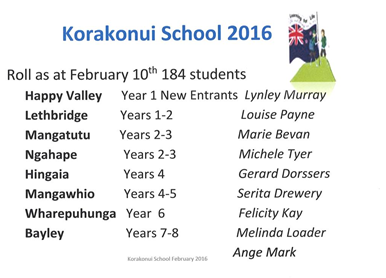 Notices from the last month: