Weekly Notices
Happenings at Korakonui School for Week 4, 2017
Current notices are listed below. Old notices from the last month (if any) are listed below them.
6 February 2017 - 20 March 2017
School Swimming
As part of our Physical Education Curriculum,
all classes are participating in lessons for 5 weeks with
swim coach Doug Jenkins and classroom teachers this term.
We are now in to our 3rd week of lessons.
We ask that all students bring their
swimming togs, caps, goggles and towel with them each day.
Please ensure that your child's togs, towels, underwear and
clothing are well named and that all girls with long hair have a hair tie.

(Please pack a change of clothes for junior students
in case items get wet in the changing shed).
19 February 2017 - 7 March 2017
Technicraft for Yr 7 & 8 students
Technicraft for Bayley students will be on

Tuesday,
February 21st
. Please ensure all students are
at school by 8.50am
with their tech books, to catch the bus to Otorohanga South School.
19 February 2017 - 20 March 2017
After School Tennis Lessons
After School Tennis Lessons
With Quentin
The weather looks great for lessons this Tuesday
for those who have registered for after school lessons
Quentin Wallace, TCNZ, AMTA
Waipa Tennis Academy - Club Kaha
19 February 2017 - 25 February 2017
Swim Training at Town Pool
Swim training at the Event Centre for the senior school will take place
on Tuesday and Wednesday this week.
Yr 5-6 Tuesday - Yr 4 and Yr 7-8 Wednesday
Senior students will travel by bus, with the assistance of parent help,
leaving school at 9am and returning approximately 12noon.
Students will need:
Togs and 2 towels
Googles / swim cap (if needed)
Water bottle and morning tea snacks
Thank you to those parents for your support with transport.

19 February 2017 - 26 February 2017
Team Building Leadership Day
Sport Waikato - Team Energize
will be hosting a team building and leadership day
for senior students (Y5 - Y8)
at Albert Park, Te Awamutu
on Wednesday 22nd February for Yr 5 & 6
and Friday 24th February for Yr 7 & 8
A great day of fun and games for all students

19 February 2017 - 26 February 2017
Mangatutu Hub Assembly
We invite parents, grandparents and friends to come along to
ourJunior school assembly for Term 1, from students in Mangatutu Hub
Assembly will be held in the Multi Purpose at 2pm

this Friday 24th February
Everyone welcome

12 February 2017 - 26 February 2017
Miniball
MINIBALL
Is your child interested in playing Miniball Term 1
on
Wednesday
evenings (Year 1-4) or
Monday
evenings (Year 5-8).
The year 5-8 competition starts
Monday 27th February
and the
Year 1-4 starts
Wednesday 1st March
.
We will require a team manager / coach for each team we put in to the competition.
If you could please email Mrs B (
marie@korakonui.school.nz
) your child's interest
in which team by
Wednesday 15th February
(no late entries sorry).
Your child will need a Korakonui School shirt to play miniball.
20 February 2017 - 9 March 2017
Swimming Sports 2017
Korakonui School Senior (Yr 4-8) Swimming Sports
Wednesday 8th March
Te Awamutu Event Centre
More info to follow next week
19 February 2017 - 20 March 2017
School Sun Hats
Korakonui School sun hats are available for purchase
from the school office for $8 per hat, and can be charged
to your school account.


Thank you to our Board of Trustees for
subsidising this cost for our students.
19 February 2017 - 20 March 2017
Netball 2017
I know I can hear you all saying "its only just February" but
Its time to start thinking NETBALL
PLEASE NOTE: Change of dates for Te Awamutu Netball for 2017
(for all teams)
6th of May to 23rd of September (Terms 2 and 3).
SCHOOL NETBALL
Forms will be sent home in the next week for those interested in playing for Korakonui in the school aged netball teams.
Once we have an indication of number of players we will then look at holding a muster/trial to help with forming the teams
Our AGM will be held in March (TBA) to confirm teams and subs.
LADIES NETBALL
Any ladies out there wanting to be a part of a Social or A Grade type netball team playing on Saturdays at Te Awamutu Netball Centre please contact me via e-mail on catsam@xtra.co.nz
Also looking at another option of placing a
Friday Night (5.45 or 6.30 rounds) Ladies Netball being run at
Otorohanga Netball Centre – 8 weeks from the 24th of March.
Please let me know urgently if you are keen on being a part of this.
Lots of fun, meet new people, and get fitter – do something for yourself
– your family will thank you.
Any questions please e-mail Catherine White on
catsam@xtra.co.nz or text 0274512930
10 January 2017 - 17 December 2017
Term Dates for 2017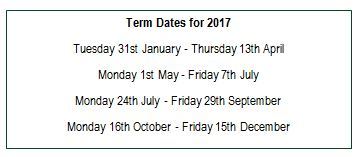 Notices from the last month: