Weekly Notices
for Monday 14 October 2019
Current notices are listed below. Old notices from the last month (if any) are listed below them.
26 September 2019 - 30 October 2019
Calendar Art Orders
Our students have completed their art work for calendar art items 2020!
We have 2020 calendars and diaries available for purchase, along with mouse pads, blank note books and greeting cards.
Order forms have come home with students last term, and need to be back by Wednesday 30th October 2019.
Please call in to the school office to view samples of the products and your child's art work. These make great Christmas presents!
Order forms can be printed from our website.
10 October 2019 - 18 October 2019
Korakonui Agricultural Day
KORAKONUI SCHOOL AGRICULTURAL DAY
Friday 18th October 2019
Please let Faye know at the office, if your animal will not be coming to Ag Day or if you have changed your animal over the holiday break.
Our setup working bee will be at 6.30pm on Thursday 17th October
Baking plates will be sent home to eldest in the family for Bayley and Wharepuhunga classes on Monday, asking please for lunch items for judges and stewards and morning tea items for stall.
Then on Wednesday we will be hosting Group Day, so baking plates will be sent home to eldest in the family for Ngahape and Mangatutu classes on Monday for Group Day judges and morning tea
Thank you for supporting these day.
Our school website has a host of rearing and leading information
An information notice for our Ag Day on Friday, will be sent home with competitors this week.
Group Day
Wednesday 23rd October to be held at Korakonui School - for calves, lambs and goats.
Waikato Show - Friday 1st Nov (Free Entry) - for lambs and goats only- no calves at this event
12 October 2019 - 18 October 2019
Ag Day Raffle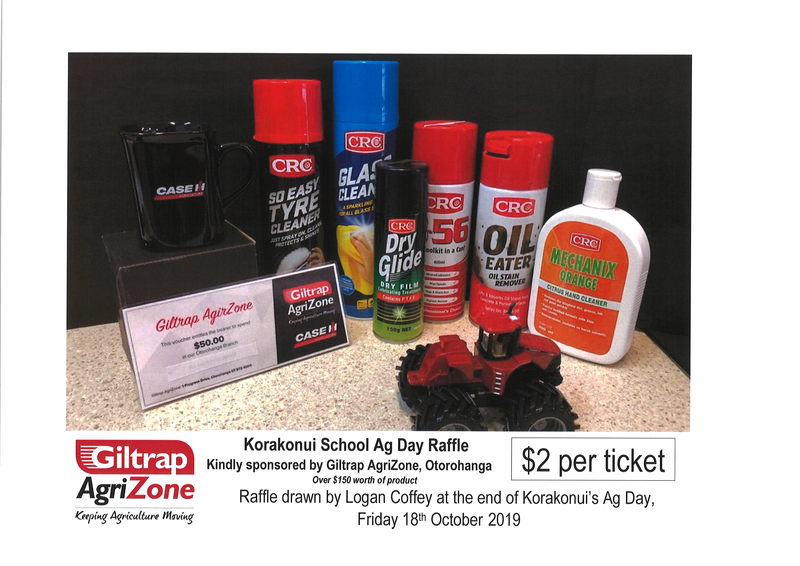 Thank you so much to Logan from Giltrap AgriZone Otorohanga for sponsoring our raffle for Korakonui School Ag Day. You can purchase tickets throughout this week from the office.
All proceeds go toward ribbon costs for our day
11 October 2019 - 21 October 2019
Drum & Guitar Lessons Term 4
Hi everyone, Mad Cow Drums will be back at Korakonui School in Term 4 with Drum and Guitar lessons, so any future "ROCKSTARS" be ready to start off into the new term "WITH A BANG"!!!
Thank you to those who have registered their child to receive drum and/or guitar lessons. Lessons are conducted in pairs for 20 minute sessions in school hours, and will commence on the afternoons of Monday and Tuesday, starting Week 2 Monday 21st October. Cost per lesson is $13.50 pp and the 6 week lesson cost, will be charged to your school account.
Please register your child's interest by Friday 18th October 2019
10 October 2019 - 13 December 2019
Sun Hats Available for Purchase
Wide brimmed bucket hats are compulsory in Term 4.
Students without a hat, or who choose to wear a cap, must sit under the sun shelter during interval and lunch times.
Bucket hats are available for purchase from the school office for $8 each and can be charged to your school account.
We thank the Board of Trustees who have subsidised our
Korakonui School Bucket hats
12 October 2019 - 22 October 2019
Technicraft for Yr 7 & 8 students
Technicraft for Bayley students will be on

Tuesday 22nd October.
Please ensure all students are at school by

8.50am sharp

, with their tech books and closed in shoes, to catch the bus to Otorohanga South School.
27 January 2019 - 13 December 2019
Term Dates 2019
Term 1 - Tuesday 29th January - Friday 12th April

Term 2 - Monday 29th April - Friday 5th July
Term 3 - Monday 22 July - Friday 27th September
Term 4 - Monday 14th October - Friday 13th December
Notices from the last month: