Weekly Notices
Happenings at Korakonui School for Week 2, Term 3, 2016 (beginning Monday 1st August)
Current notices are listed below. Old notices from the last month (if any) are listed below them.
29 July 2016 - 5 August 2016
Trophies Due Back
ALL TROPHIES DUE BACK TO SCHOOL CLEANED PLEASE
For Cross Country, Netball,
Rugby and Ag Day
28 July 2016 - 3 August 2016
Technicraft Tuesday for Rm 7
Technicraft for Bayley ~ Room 7 students this week.
Students need to be at school by 8.50am on Tuesday 2nd August at the latest, to catch the bus to technicraft at Otorohanga South School. Remember to wear covered in shoes and bring your tech books.
29 July 2016 - 4 August 2016
4 Year old Sessions
4 Year Sessions with Mrs Murray start this
Wednesday
3rd August at 1.30pm
in the Multi Purpose Room.
If your child has already turned 4, you are welcome to attend.
28 July 2016 - 5 August 2016
School Cross Country
Our 2016 school cross country event will be held next week on
at Sam & Catherine White's property, 122 Happy Valley Road
starting at 12.30pm. All children will travel by bus to this event.
The track is on a working dairy farm and footwear for running is
suggested. The course lengths are approximately 1200m for 7-13 year olds and approximately 400m for 5-6 year olds.
Thank you to parents from Bayley, Wharepuhunga and Mangawhio who will sell ice blocks and organise a sausage sizzle at lunchtime for parents and students.
Student can wear their house t-shirts/colours for this event.
The inter-school competition will be on
Wednesday 17th August.
23 July 2016 - 4 August 2016
House T Shirts
If you wish to purchase a House T-shirt for your child, please see Faye at the school office. Shirts are $15 each, and will be charged to your school account. Sizes, 4, 6, 8, 10 etc. Limited stocks.
(The school house list of students is available in the office foyer).
29 July 2016 - 5 August 2016
Whanau Hui
Whānau Hui
The Kete Mātauranga group have been working hard these past two terms filling their baskets of knowledge. Join us on Thursday 4th August at 6pm in the multipurpose room to celebrate their learning.
Bring a plate for a shared kai before the celebration of learning begins.
29 July 2016 - 17 August 2016
Ag Day 2016
KORAKONUI SCHOOL AGRICULTURAL DAY
Wednesday 12th October 2016
Now is the time to start thinking about choosing your lamb, calf or goat.
Entry Forms will go home with students on Monday 22nd August.
Ag Day organising meeting to be held at Korakonui School
7pm Tuesday 16th August
~ all welcome.
~ TA Boys & Girls Group Day Meeting ~ 7pm 2nd August at KS ~
Info can be found on our website - Admin Central - Ag Day
23 July 2016 - 5 August 2016
Drumming & Guitar Lessons T3
Term 3 lessons will start in Week 3, and run for 6 weeks at $12 per lesson.
Guitar lessons will be on Wednesdays with Colin
Drumming lessons on Thursdays with Leeza, both in school hours
Please register your child/ren by emailing Faye at the school office by Friday 5th August. ( office@korakonui.school.nz )
Drumming / Guitar 6 weeks of music lessons will be a total of $72 and will be charged to your school account.
29 July 2016 - 10 August 2016
Parent Teacher Interviews
PARENT TEACHER INTERVIEWS
for Year 4 - 8 Students
Monday 8th August - from 1pm - 5.30pm
Tuesday 9th August - from 3pm - 5pm

We will be using the school interview online booking system for this.
the code
gk7xc
to book your interview time.
Please note that each interview is for 15 minutes
~ one appointment time slot per student please.

Please contact Faye at the school office if you require assistance.
29 July 2016 - 12 August 2016
BOT Meeting
The next Board of Trustees meeting will be held on
Thursday 18th August at 7pm
in the board room.
All welcome.
Please note date change
29 July 2016 - 13 August 2016
Pie Day Friday
Student Council will be hosting their Senior Formal later this year
and would like to raise funds for decorations etc.
On Friday 12th August
will see the first of their fundraisers
'Pie Day Friday'
Lunch order forms will go home with students next week on Friday 5th August
~ orders must be in by Tuesday 9th August.
23 July 2016 - 16 December 2016
2016 Term Dates
Term 1 Tuesday 2nd February - Friday 15th April
Term 2 Monday 2 May - Friday 8 July
Term 3 Monday 25 July - Friday 23 September
Term 4 Monday 10 October - Friday 16 December
11 February 2016 - 11 December 2016
Korakonui School 2016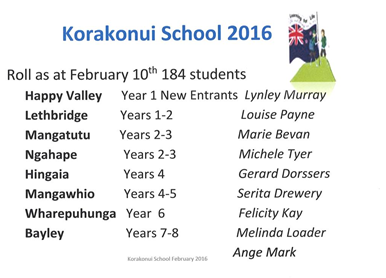 Notices from the last month: